etto mobile vehicle valeting, alloy wheel & bumper repair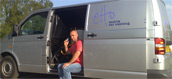 We offer a professional mobile service, with high standards of quality service and customer care. Our aim is to provide you with an excellent professional service that will ensure your custom, again and again for many years to come.
There are many reasons why a mobile service can benefit many different groups of clientele.
Maybe you live in an apartment and don't have east access to electricity and water call us: we have water and electricity on our van.
Are you elderly or have a disability and find it just too dificult or impossible to clean your vehicle. Call us: we take the strain for you.
Have you just bought a vehicle and it needs a good valet. Call us: we will get your vehicle to showroom condition.
Selling a vehicle? A professionally valeted vehicle sells quicker and increases its value. Don't forget those nasty chips, scuffs, scrapes and kerb damage on your alloy wheels or bumper, these will affect the value of your vehicle. Call us: we can restore you vehicle to showroom condition.
Maybe your vehicle is due its regular valet. Call us: check our prices we are very competitive.
Is it just too inconvenient to drop your vehicle to a garage, and then find your way home, or wait around, just to have a small repair done? Maybe your vehicle will have to wait in a queue, who knows how long! Call us: we will come to you and valet or repair your vehicle on the spot, and on the same day - No Inconvenience.
Is your vehicle on a lease? Will you have to pay an extortionate price to the garage on return if dirty or damaged? Call us: check our prices they are very competitive.
Are you a working mum with 101 things to do? Don't worry about your vehicle. Call us.
Don't waste your weekend cleaning or reparing your vehicle. Call us: we will come to your work place, while you are working we will attend to your vehicle.